Malibu Tie, Inc.
The Formal Wear Accessories Company
Your quality US made ties, bow ties, vests, suspenders, cummerbunds, and pocket squares.
Ties/Bow Ties/Vests/Suspenders/Cummerbunds/Pocket Squares are always in stock and ready to ship the same day.
Our products are made in Tustin, California.
In order for us to send you colors chart and price list, please click here to go to our Request Form



MEMBER OF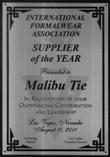 Here's what our customers are saying
Malibu Tie offers us everything we are looking for in an accessory manufacturer: Finest quality zipper ties, made domestically in Southern California, by the patent holder herself. Quick turnaround, customized color selection, lowest prices, AND a no-fault guarantee! You won't ever hear "sold out", "piece goods not available", or "no cutting date" from this manufacturer....
Jeff Shain, Friar Tux Shop
Malibu Tie has consistently provided Chef Direct
with first quality neckwear and has always given our
orders immediate attention. Malibu Tie has been an
important partner in fulfilling our customer's needs
for neckwere, and will continue to be so in the future.
Tom Salamone, Chef Direct